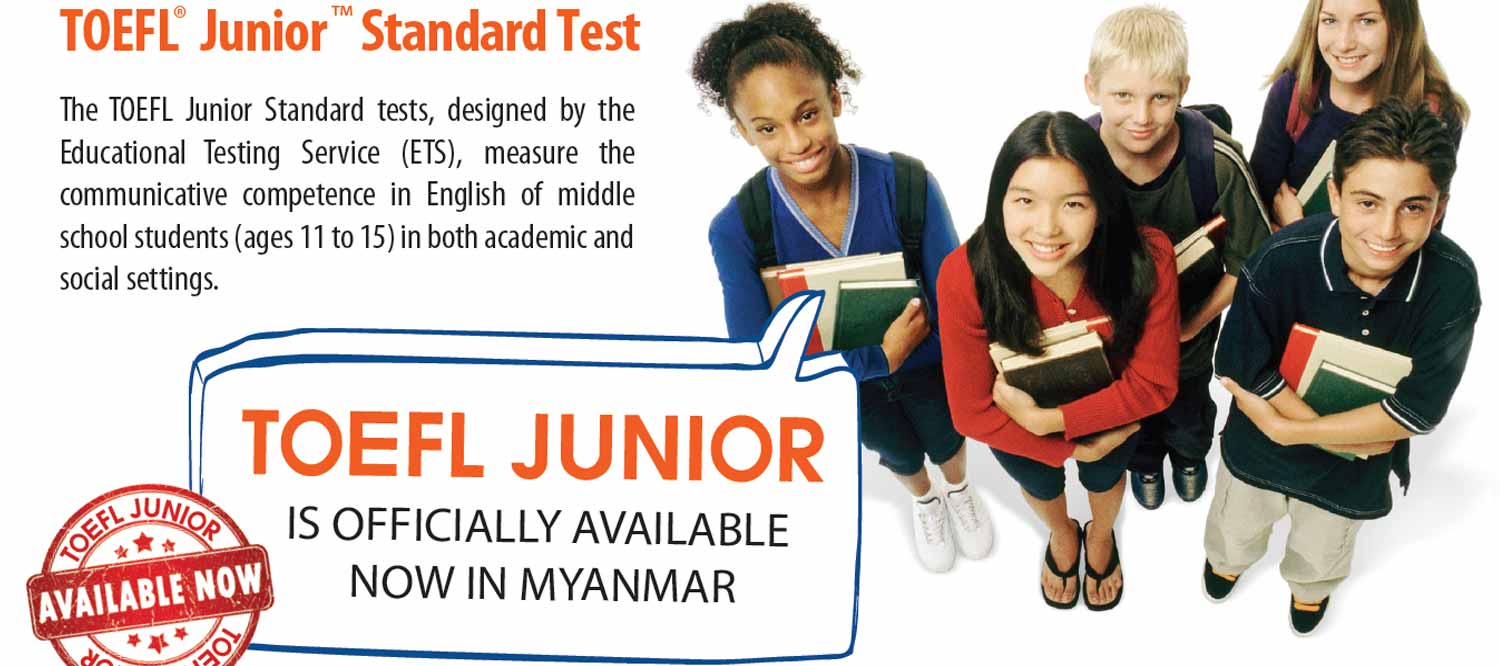 TOEFL® Junior ™ Standard Test
The TOEFL Junior Standard tests, designed by the Educational Testing Service (ETS), measure the communicative competence in English of middle school students (ages 11 to 15) in both academic and social settings.
TOEFL Junior - A standardized tool to measure Englishlanguage prociency of middle school student
• TOEFL Junior scores has officially replaced SLEP, which is used in admission of non-native speakers to public high schools in USA (visa F1) or one-year exchange program in U.S. high schools (visa J1).
• TOEFL Junior score reports issued by Educational Testing Service (ETS) are valid worldwide.
Measuring the Skills Your students Need to Succeed at Your Institution – and Beyond
TOEFL Junior test is a distinct product within the TOEFL Family of English-language Assessments, researched and developed by ETS. While ETS's university-level TOEFL iBT test sets the standard for the measurement of academic English proficiency worldwide, the TOEFL Junior test is the appropriate assessment for younger students in English-medium instructional environments.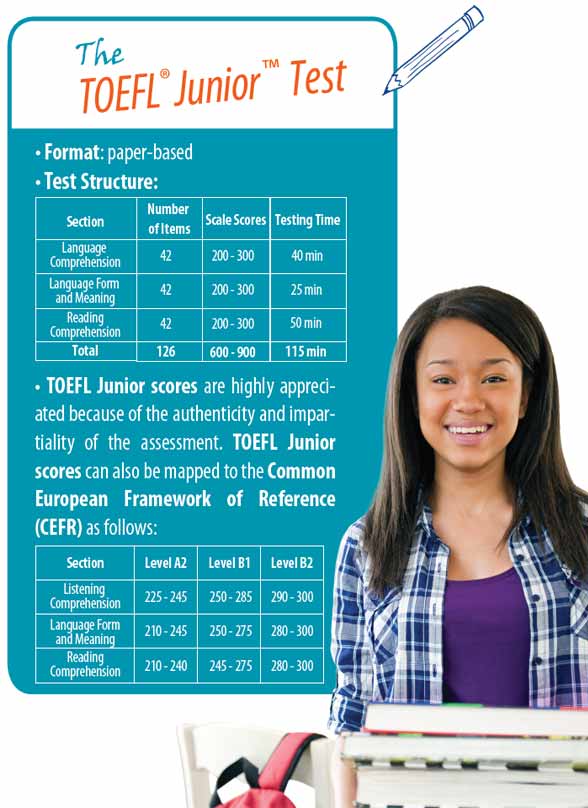 Benefits of TOEFL Junior Test
To students:
Accurately determine students' ability to use communicative English in different contexts.
Monitor students' progress over time to guide their learning and skill development.
Map students' development and achievement to prepare for higher studies.
To schools, institutions, and English training centers:
An effective tool to arrange students into suitable programs and levels.
Use score reports and performance feedback to tailor English instructions and guidance for students.
Evaluate the efficiency of the teaching program to propose appropriate adjustments.
Lexile measures help find the right book at the right level
The Lexile® measure is a tool that helps students find books that fit their reading ability and that will help push them to the next level
Test-takers can match their TOEFL Junior score with Lexile reading measures. Using the Lexile measure, they can find books and articles that reflect their reading level and interests, and are challenging enough to help build reading skills.
4 steps to find the right books at the right level:
1. Go to: www.lexile.com/tofeljunior
2. Enter the Lexile measure from the student's TOEFL Junior score report.
3. Browse the Lexile library to find books at the right level.
4. Build a book list for effective reading practice.